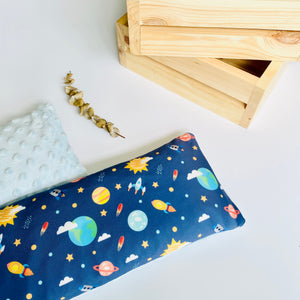 little storkie
Minky Husk Pillow - Outerspace
Regular price
$13.00
$0.00
Unit price
per
Traditionally made by grandparents/parents to comfort their newly born baby.
Provides comfort and a sense of security for your baby
Help to soothes your baby, calm babies against sudden movements or noises
Available size: 15cm (H) x 40cm (W), perfect for bedtime and travelling
Approx 250gm of UV sterilised beansprout husks sourced from local farms
Includes a beansprout husk pillow with inner and outer pillowcases
Care Instructions:
Both pillowcases can be removed like a normal pillow cover and put into the washing machine/hand-washed. 
The beansprouts husk cannot be put into the washing machine. 
It is recommended to leave 

beansprouts husk in the sun regularly (once every 1-2 weeks depending on use) to keep the husks crisp and odor-free. 

The warmth of the sun will refresh your beansprouts husks. 
---